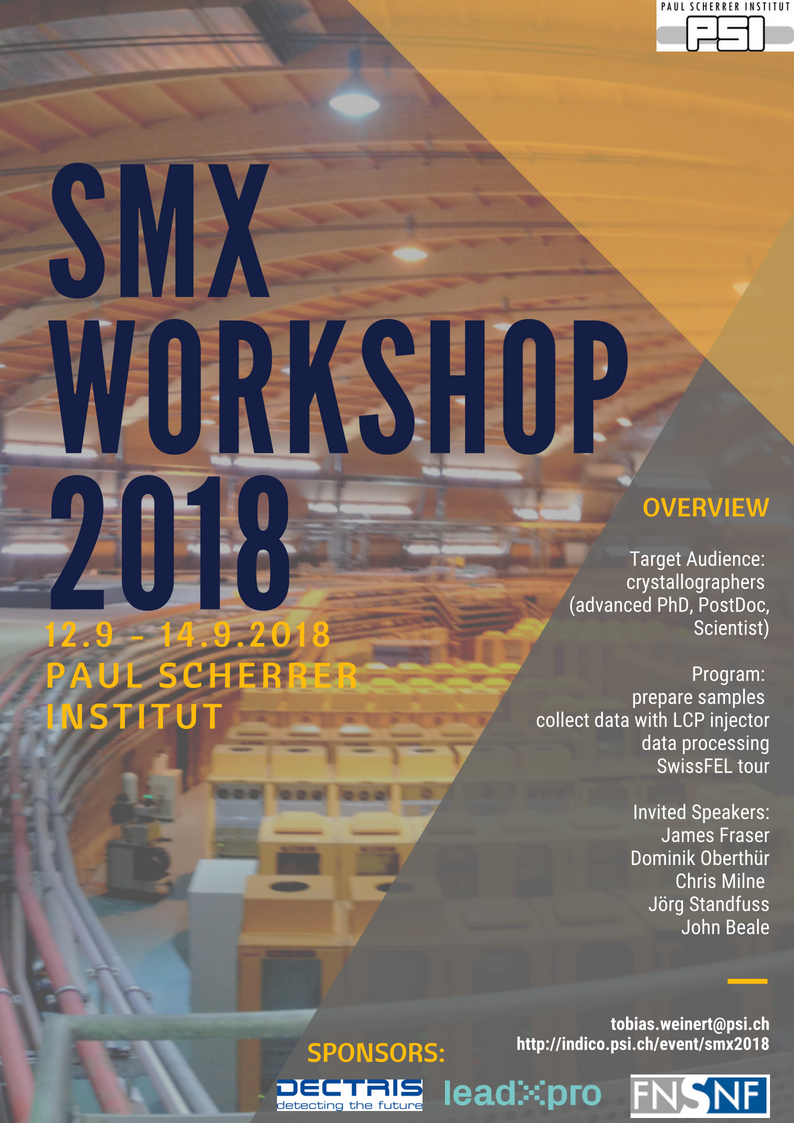 PLEASE NOTE THAT THE WORKSHOP IS FULL, REGISTRATION IS ONLY OPEN TO CONFIRMED PARTICIPANTS.
You will learn how to prepare samples and collect data at room temperature using a high viscosity injector at the PXI beamline at Swiss Light Source (you can also bring your own samples!).
For setup & method details please see:
https://www.nature.com/articles/s41467-017-00630-4
There will be the opportunity to visit SwissFEL which will be starting regular user operation in the beginning of 2019.
The workshop will be accompanied by lectures of James Fraser, Dominik Oberthür, Chris Milne and Jörg Standfuss.
Prof. Fraser is doing fascinating research on multiple topics with a strong focus on the effects of temperature on protein structures.
Dr. Oberthür is developing liquid injection systems, specifically mixing jets that will allow structural enzymology at synchrotrons and free electron lasers.
Dr. Milne is the principal beamline scientist that is responsible for the Alvra endstation at SwissFEL.
Dr. Standfuss is doing time resolved serial crystallography using high viscosity injectors at free electron lasers.
The workshop is limited to 12 students. The application deadline August 27.

Registration fee:

300 CHF (including Workshop, Lectures, Coffee Breaks and Food)

Accomodation:

We have reserved double rooms for all participants from 11.9.-15.9.2018 in Hotel Terminus Brugg.

Costs: 95CHF/person/night in a shared room (including breakfast) and 120CHF/person/night in a single room (including breakfast). The hotel is close to the train station & the speakers will also be accomodated there.

Organizers
Tobias Weinert, Paul Scherrer Institut, Switzerland
Meitian Wang, Paul Scherrer Institut, Switzerland
Secretariat

Sonia Reber, Paul Scherrer Institut, Switzerland