---
Stretching from the Rhone valley (altitude: 500m) to the Plaine Morte Glacier (altitude 3'000 m), Crans-Montana is a sunny region with a breath-taking view over a string of mountain peaks that unfold from the Dufourspitze to Mont Blanc via the Weisshorn and the Matterhorn. With its lakes, forests, glacier and vineyards, the region has something to offer to every nature lover. Sports fans, too, will be delighted to discover a large array of amenities dedicated to sporting activities, whilst cultural devotees will enjoy the wide range of museums, events and festivals. In fact, Crans-Montana combines all the benefits of the urban lifestyle within a mountain setting, with a wide selection of eateries ranging from mountain huts to award-winning restaurants, numerous boutiques and shops, a wellness centre, a variety of entertainment and a vibrant nightlife.
---
How to access Crans-Montana
By train to Montana Gare
Especially if you come from Europe, we would encourage you to travel by train to Switzerland. Switzerland is in the middle of Europe and has very good international and excellent national train connections.
From Paris, it takes just 5.30 hours, from Milano just a bit more than 3 hours and from Frankfurt it takes not even 6 hours to travel to Crans-Montana (Montana Gare).
There is no railway station called "Crans-Montana". Travelers take trains to Sierre, walk five minutes to the bottom station of the Montana-Funicular (cable railway) for a 20-minute ride up to Montana Gare.
Please find your timetable here.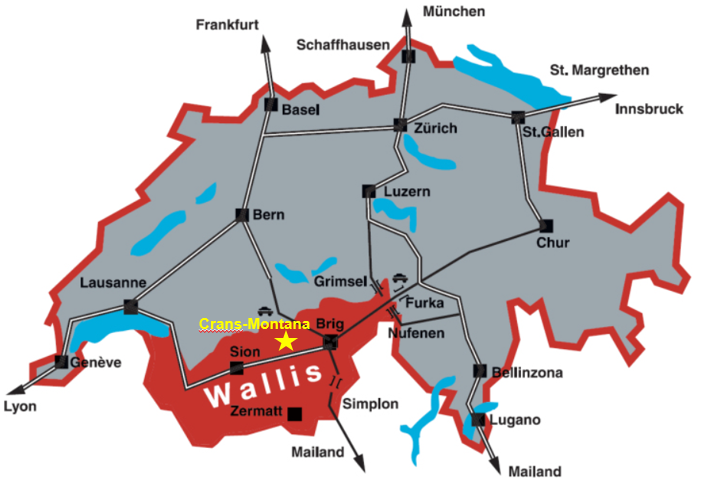 If you fly to Switzerland
Geneva-Cointrin is the closest international airport (travel time to Crans-Montana is approx. 3 hours by train / 2.5 hours by car), but also the other Swiss international airports in Zurich and Basel are reached within approx. 3 to 3.5 hours, as is Milano-Malpensa in Italy.
As mentioned above, you take the train from any of the mentioned airport to Sierre and then the cable railway to Montana Gare.